Explore Your Artistic Talents
Discover your creative side in the beautiful setting of the Cognac region with Ceangal's Artistic Retreats. Surrounded by serene landscapes, our retreats provide the perfect environment for you to explore your artistic talents and develop new skills under the guidance of experienced instructors. Whether you're a seasoned artist or a complete beginner, our Artistic Retreats offer a unique experience that will leave you inspired and rejuvenated.
What to Expect
During our art retreats, you can expect a variety of activities and workshops. Some key elements of our artists retreats include:
Expert Instruction
Our Artistic Retreats feature guidance from professional artists and instructors who are dedicated to helping you develop your skills and explore your creativity.
A Variety of Mediums
From painting and drawing to sculpture and photography, our retreats cater to a range of artistic disciplines. Experiment with different techniques and materials, or focus on your preferred medium.
Inspiring Surroundings
The picturesque landscapes of the Cognac region serve as the perfect backdrop for your artistic endeavours. Find inspiration in the rolling vineyards, charming villages, and historic architecture.
Personalised Guidance
With small group sizes, you'll receive individual attention from our instructors, ensuring that you get the support you need to grow as an artist and create meaningful works of art.
Relaxation and Rejuvenation
In addition to the artistic workshops, our retreats also offer yoga, mindfulness, and meditation sessions to help you relax and recharge, fostering a deeper connection with your creative self.
Authentic French Cuisine
Enjoy delicious, locally-sourced meals prepared by our talented chefs, providing you with the energy and nourishment needed to fuel your creativity.
Accommodation and Meals
Artistic Retreats are held at the historic Logis du Paradis, which offers comfortable and spacious accommodation, as well as a variety of amenities designed to enhance your retreat experience. Enjoy the outdoor swimming pool, walled gardens, and the beautiful Charentais courtyard as you unwind after a day of artistic exploration.
We believe that nourishing food is an essential part of the Ceangal experience. Our retreats include delicious, wholesome meals, prepared using fresh, locally-sourced ingredients. We cater to various dietary needs and preferences, ensuring that every guest enjoys a satisfying and nutritious dining experience.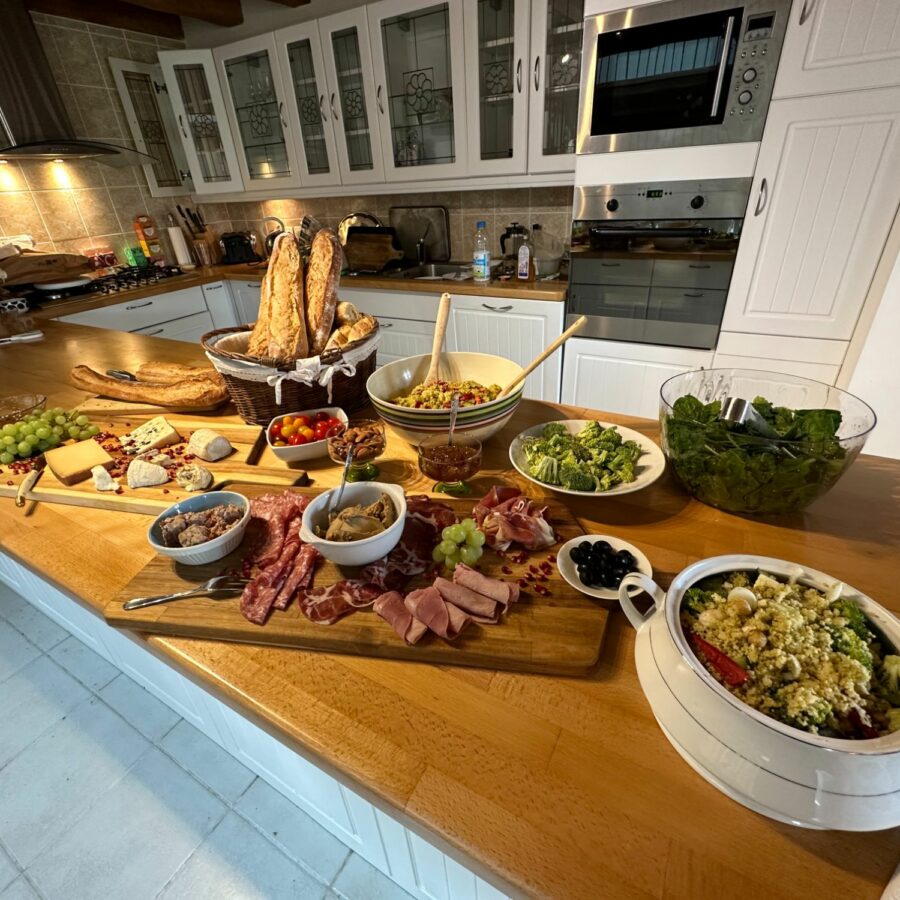 Who Can Attend
Our artistic retreats are suitable for individuals of all experience levels, from beginners looking to explore their artistic side for the first time, to experienced artists seeking a collaborative and connective experience. We create a welcoming and supportive environment for everyone, regardless of their background or experience.
Retreat Schedule
Our artistic retreats typically span several days and follow a daily schedule designed to provide a balance of structured activities and personal time for relaxation and reflection. Each day will include a combination of artistic sessions, workshops, and group discussions, along with time for rest, exploration, or engaging in other optional activities.
Be the First to Know
At Ceangal, we're in the process of curating inspiring art retreats that combine creativity, tranquillity, and local culture. While we don't have any scheduled for this year, we're keen to hear from those interested. By expressing your interest, you'll help shape our future offerings and be the first to know when our Art Retreats become available. Express your interest today, and we'll bring you one step closer to an unforgettable artistic getaway.